Publications
Resilience: A Practical Guide for Coaches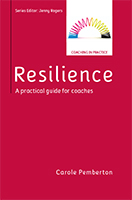 Carole Pemberton
Inspired by research with talented individuals who had lost their resilience; it provides key insights from psychology, case study evidence and tools for coaches to work with resilience issues. Whether a practising or trainee coach it will help you gain:
An understanding of what resilience is, and what separates it from burnout and trauma
A range of approaches that you can use in working with resilience issues
A better understanding of your own resilience and how you can use your own experience to help others
The book accessibly explains current thinking on resilience and allows the reader to assess how you might want to develop your own approach. For any coach who wants to understand this fundamental subject, the book provides a clear and comprehensive resource on what resilience is and isn't; how to recognise its loss and how to work with resilience in a variety of ways.
You can pre-order the book at McGraw-Hill Education and click here to read a free sample chapter.
Coaching to Solutions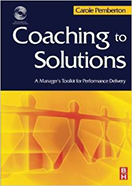 Carole Pemberton
Managers are now expected to coach as part of their skill set, but often struggle to find a way of doing this that is within their capacity and time available.
Based on the principles of Solution Focussed Therapy, the book provides a clear model that enables managers to hold conversations that have performance building outcomes.
The FAST model:
Focussed
Action Directed
Solution Building
Time Effective
Has helped unconfident and even reluctant managers to discover that they can coach in a way that works with the demands of their role and their own style.
The book has been used widely within the public,private and not for profit sectors to enable line managers to bring a coaching approach to conversations. It has also been used in the development of internal coaches.
Used in conjunction with the FAST Coaching DVD package it provides a complete package for developing confident and effective managerial coaching.
Purchase on Amazon
FAST Coaching DVD Training Package
A complete package for anyone wanting to develop performance coaching skills in their line managers or to support the coaching skills of internal coaches.
The package comprises:
DVD of 12 work based situations in which coaching skills are modelled
2 day training programme with a complete trainers guide and workbook for participants
Powerpoint file of all visuals needed in support of the programme.
Price of package £495.
A preview copy of the package can be obtained by contacting:
Ellerton Training Services or contact Janet Warren at www.ellertontraining.co.uk
contact number: Tel/ Fax: (+44)131 667 5570
High Performance Toolkit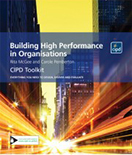 Rita McGee and Carole Pemberton
Published by the CIPD, this is a toolkit for HR professionals and Learning and Development specialists who are wanting to build performance at organisational, team or individual level. Includes resources for addressing issues such as:
Measuring the organisation's current performance
Developing solutions focussed teams
Frameworks for supporting leaders in building performance
Engaging the high performer
Measuring individual resilience
Dealing with the problem issues
This is an essential resource for every organisation who wants to deliver more.
See full details of the toolkit and a sample tool
Strike a New Career Deal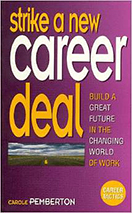 Carole Pemberton
Originally written as a self help book for those wanting to take stock of their career, it is used by many career coaches to help them in working with clients. Central to the book is the idea of career as a series of deals between an individual and their employer. Making a career work is about recognising when a deal has run out of steam and it is time to create a new one.
The book offers exercises which can be used within a career coaching relationship to help the client take control of their career future.
Purchase on Amazon