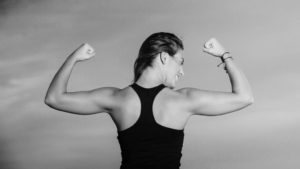 As our lives have closed in and the threat of COVID 19 has become real, there has been a rush of interest in resilience. As someone who has researched, written about and coaches on resilience, the assumption has been that this is a time when like Amazon and the supermarkets I can benefit from bad times. However, to do so would be to challenge everything that I believe about resilience. Because the truth is, we are all resilient.
Charles Darwin wrote, 'It is not the strongest of a species that survives but the most adaptable'.  Resilience is about adaptability. A crisis asks that we adapt. In a week we have adapted ourselves to new ways of working, to using video technology as our way of being able to earn our living. We are adapting to having to create our own structures for  the day.  We are breaking patterns of how we live our daily lives. We are learning how to be with our families for more hours than we are used to. We are looking for ways of keeping ourselves entertained that go beyond endless TV watching, and we are finding ways of exercising that don't require gyms.
In the early days of the crisis, we saw the panic buying that spoke of fear, but as the days progress we are adapting: accepting that when something is not available we can adjust our recipes or do without,  and trusting  that there is enough for all if we only take what we need.
So, rather than focusing on the loss of resilience, I want you to consider how you can harness your resilience in the coming weeks.
The Supports to Resilience
There are 8 key dimensions of resilience. How you are doing against them right now.
Purpose
Are you using this time as one in which you can create meaning for yourself? It may be a time for rethinking the importance of work in your identity? It can be a time for developing other aspects of yourself or strengthening your relationships with those you live with.
When you think back on this time – which may stretch for months, what do you want to have gained by having this uninvited experience?
Support
COVID 19 is making us aware of both our vulnerability, but also our interconnection. We are more resilient when we are both giving and receiving support.
How are you offering support to others?
It is not resilient to grit your teeth and hide your own needs for connection. If you are in need of support, are you reaching out and gaining that support whether it is through an existing relationship, social media or a support service?
Creativity
We are comfortable with the familiar, but a crisis asks that we become more creative and find solutions when the usual resources are not available to us. It may mean rediscovering the creative you that has not allowed time for writing, painting, or crafting in how you have been living your life. Or it may mean finding creative solutions to the obstacles that lockdown puts in our way.
How are you showing your creativity?
Adaptability
Nature tells us that adaptation is the key to survival.
What have you already had to adapt in your life, and what are you learning by doing so?
Proactivity
We are more resourced when we take action rather than seeing control as being in the hands of 'them'.  It is easy to blame others for the situation we are now in, but that denies us any power to make things better.
What have you, or could you take action on that would contribute to feeling more in control of dealing with this disruption?
Realistic Positivity
No one can say when life will return to 'normal'; but for as long as it lasts, it is important that we can recognise the positives that remain in our lives.
What can you be positive about?
Emotional Control
This is a time of strong emotions: the fear of job loss, or of becoming ill.  Being at home with others can stir heightened emotions and tensions.  Being at home alone can bring feelings of abandonment, loneliness or self-pity. Emotions are inevitable.
What are you doing to manage those emotions so that you can make them transitory?
Self-Belief
Many philosophers have made the point that while we cannot control events (and who could have predicted that meat bought in a Chinese market would bring us to this) but we can control our attitude towards those events.  Core to this is a sense of belief. A belief that we can deal with this, and will learn from it.
What in your sense of self is going to help you get through this time?
Developing Your Resilience in A Tough Time
In asking yourself those questions you will have found a range of qualities that will help you through this time.  You have probably found that there are some that are more difficult for you to access. Rather than seeing them as deficits, see this time as a learning gym in building your resilience. Identify the resilience muscle that most needs attention and consciously practice it in the coming weeks and months.
Purpose
Set yourself a purpose for this enforced period of life outside the usual norms.
Support
Make a conscious effort to offer support wherever you see a need, however small.
Allow yourself to express a need for support knowing this is a time when the need for support is widely recognised.
Creativity
Consciously think of how you can do something differently, particularly if the accepted way is not easily accessible.
Rediscover the creative part of you, at a time when the usual places that we observe others' creativity are closed.
Adaptability
Notice what you are finding difficult to adapt to. Consider what is the smallest adaptation you could make that would show you that you are evolving through this period. Notice how you feel after making that adaptation.
Proactivity
Catch yourself when you are blaming, and notice how satisfying it is to blame. Then ask yourself, 'Even if that is true, what can I do that would make me feel I have some control'.
Realistic Positivity
You may like being a 'glass half empty' person because it prepares you for the worst. You may be 'glass half full' person who always looks at the bright side and ignores the risks.   Whichever position you hold ask yourself on a regular basis, what can I be realistically positive about?
Emotional Control
If you are finding your emotions are overwhelming you, or you are being dominated by one particular emotion then find ways of disrupting the emotion. This can be by doing something that completely absorbs you, by having a laugh, or by doing some mindful breathing. All of them show you that emotions when disrupted dissipate.
Self-Belief
Connect back to your purpose for this time.  If you are clear on what you can gain from this new experiment in living then your self-belief will follow.  You will be able to say to yourself 'I can do this'. Support it by congratulating yourself each day for what you have managed to achieve, despite its frustrations and limitations.
And When It is Over
This is a time for both accessing your resilience but also for growing it. We will all emerge more resilient. We will no longer use as our resilience reference point the ways in which people lived in WW2. We will be able to speak of how we showed up when Corona Virus challenged our lives and how we took that learning into how we live going forward.